The Story of Pinterest and the Team Behind It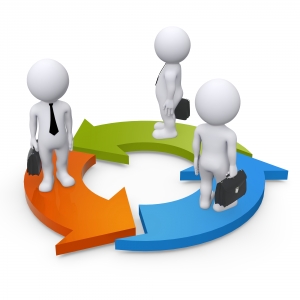 At the moment of writing, Pinterest is one of the most popular social networking sites on the world wide web. And its popularity continues to grow on a virtually daily basis. But the breakthrough didn't happen overnight. One year after the website has been launched, its founders even tried to sell it to a publishing company in New York but they weren't able to get a meeting. However, the failed sales attempt didn't discourage Pinterest developers from continuing to work on the website and one year later, Pinterest became one of the hottest and most visited sites on the Internet.
The Foundation
Pinterest was founded by Ben Silbermann, Paul Sciarra and Evan Sharp in late 2009. In mid-2008, Silbermann and Sciarra quit their jobs to launch their own company called the Cold Brew Labs. In early 2009, their company received funding for an iPhone app. However, they soon gave up this project and dedicated themselves to Pinterest. Together with Evan Sharp who in the meanwhile joined the team, Pinterest was finally designed by the end of 2009. In early 2010, the founders received funding from several anger investors and within a few months, the first protype was launched.
The Path to Success
After the launch of the Pinterest protype in early 2010, Silbermann, Sciarra, Sharp and their investors decided to sell it. They offered it to a publishing company in New York but as mentioned earlier, they weren't interested and even refused to see the founders. But the team continued to work on their project. Within less than a year after launching the website, they had 10,000 users. But the breakthrough came only after the launch of an app for iPhone in March 2011. By the end of 2011, Pinterest had over 10 million users and established itself as one of the top 10 social networking sites.
Pinterest Business Accounts
Businesses are allowed to join Pinterest only since October 2012. Prior to that date, they could pin, repin, like and comment only from their personal accounts. Advertising isn't allowed on Pinterest but businesses are allowed to promote their products and services on their pinboards.